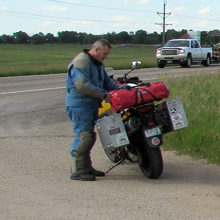 THE SMACKDAB SUMMER SOLSTICE RUN is held on the Saturday closest to the summer solstice. The ride starts at dawn, at the monument that marks the Geographic Center of the 48 Contiguous States just north of Lebanon, Kansas. Riders have until dusk to complete the ride at the monument that marks the Geographic Center of North America in Rugby, North Dakota.
Smackdab is NOT a group ride. Participants ride individually, travel at their own pace, and stop whenever and wherever they like. There is no registration fee; the only expense is the optional embroidered finisher's patch, which is offered to verified finishers at cost.
The route follows U.S. Highway 281 north for 95 percent of the trip, until it turns west on U.S. Highway 2 for the final thirty-four miles into Rugby. The solstice allows over sixteen hours to ride the 675 miles from north central Kansas, across Nebraska and South Dakota, then through most of North Dakota before dusk, earning finishers a great sense of accomplishment, a great story to tell, as well as the right to wear the coveted Smackdab patch.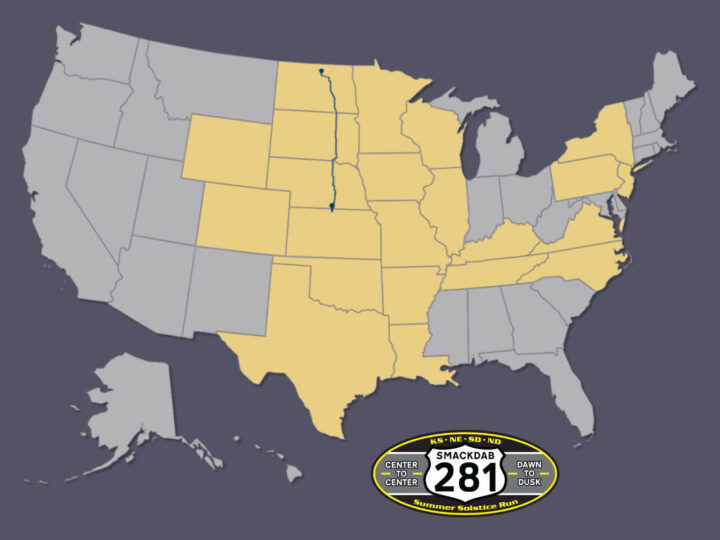 More than 480 different people from 22 U.S. states have completed the Smackdab Summer Solstice Run.
"Enjoyed the ride and meeting a lot of fellow riders." – Stanley G., Walton KS
"Enjoyed the ride to Rugby…Hope we will be able to do this again." – Kent E., Council Bluffs IA
"It was a great ride…" – Joe C., Amherst CO
"It was an awesome ride." – Bill W., Wichita KS
"Such a great ride. My father and I had a great time." – Jeff K., Lindsborg KS
"Will likely plan to ride it again next year." – Don M., LaCrosse KS
"It will not be the last time I attend." – Jason P., Osborne KS
"That was great fun!" – Steve K., Scott City KS
"This was one of the best motorcycle trips I have made. Can't wait till next year!" – Billy A., Manhattan KS
"It was a great ride for me on my 750 Honda Shadow." – Tamra W., Liberty MO
"Had a great time!"
– Stanley G., Karla H., Don M., Greg M., & Jason P.