AT THE START
MOTELS & RESTAURANTS:
The closest place to find food and lodging Friday evening is Smith Center, Kansas, located on US 36, about 20 minutes WSW of the departure point in Lebanon. Smith Center has a bed and breakfast (though you won't be around for breakfast Saturday morning!) and several motels. Several restaurants are open in the evening. In 2017, the local Subway gave free cookies to Smackdab riders with purchase.
Stan Smith, owner of the Buckshot Inn in Smith Center, is a veteran of Smackdab '17 and doing his best to promote the run. Give him a call for your room Friday night @ 785.282.6644 or visit www.buckshotinn.com.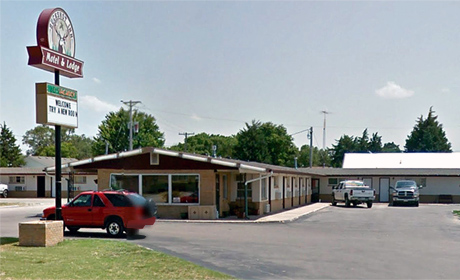 Google search results for motels in Smith Center.
Google search results for restaurants in Smith Center.
CABINS: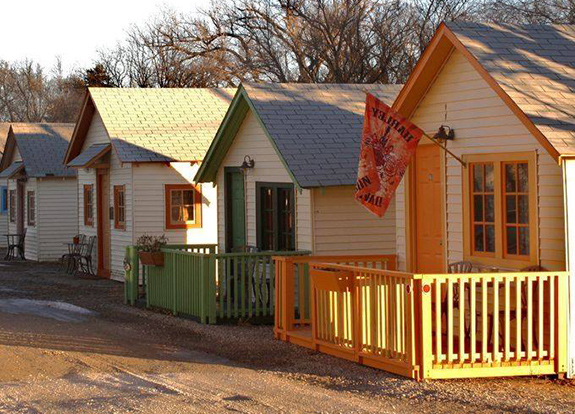 Shady Grove Cabins is located about 24 miles south of the start point, in Downs, Kansas. These are the last 1930's roadside tourist cabins still operating in Kansas. Recently remodeled, with all-new interiors, Wi-Fi, cable, mini fridge, microwave. Contact Kip, the owner, through the Shady Grove Cabins Facebook Page.
CAMPING:
The US Center Foundation and Lebanon City Council permit "Smackdabbers" to camp for free on Friday night in Lebanon Park, located on the south side of Kansas Avenue, just west of Main Street. The town of Lebanon is only about 2-1/2 miles from the start point, rather than the 16+ miles from Smith Center, so it's a very convenient location. There are restrooms, but no showers. If you are considering this option, contacting the Lebanon Visitors Center ahead of time is suggested, and a donation to the US Center Foundation is strongly encouraged.
The US Center Foundation
PO BOX 24, Lebanon, KS 66952
Phone (785) 620-7115
E-Mail: uscenterfoundation@gmail.com
www.uscenterfoundation.com
---
AT THE FINISH
HOTELS & RESTAURANTS:
The destination marker is right at the main intersection in Rugby. A couple of larger hotels are within a block or two of the finish, most notably the Northern Lights Inn and Cobblestone Inn & Suites, which is modern and nicely appointed. Many of the restaurants close at 8 PM, but in 2017 several restaurants were open later. The Rancho Grande Mexican restaurant is located just across the parking lot from the monument.
Google search results for motels in Rugby.
Google search results for restaurants in Rugby.
CAMPING:
Camping in Rugby on Saturday night is available at the Pierce County Fairgrounds The Rugby Convention and Visitors Bureau would like a count of how many will be camping at the site, so riders who are interested in camping at the fairground; a note to info@smackdab281.org or a post in our Facebook group would be appreciated. Camping is also available within walking distance of the monument at the Oakwood Inn & Campground on US Hwy 2.