AT THE START
HOTELS:
The closest place to find food and lodging Friday evening is Smith Center, Kansas, located on US 36, about 20 minutes WSW of the departure point in Lebanon. Smith Center has a bed and breakfast (though you won't be around for breakfast Saturday morning!) and several motels. Several restaurants are open in the evening.
Stan Smith, owner of the Buckshot Inn in Smith Center, is a veteran of Smackdab '17 and doing his best to promote the run. Give him a call for your room Friday night @ 785.282.6644 or visit www.buckshotinn.com.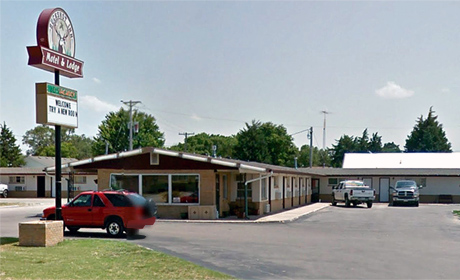 Google search results for motels in Smith Center.
Google search results for restaurants in Smith Center.
CAMPING:
Last year, the Lebanon Hub Club and Lebanon City Council agreed to let "Smackdabbers" camp for free in their city park Friday night, and this is expected to be permitted again this year. The town of Lebanon is only about 2-1/2 miles from the start point, rather than the 16+ miles from Smith Center, so it's a very convenient location. There are restrooms, but no showers. If you are considering this option, contacting the Lebanon Visitors Center ahead of time is strongly encouraged.
The US Center Foundation
PO BOX 24, Lebanon, KS 66952
Phone (785) 620-7115
E-Mail: uscenterfoundation@gmail.com
www.uscenterfoundation.com
---
AT THE FINISH
The destination marker is right at the main intersection in Rugby. Several large, modern hotels are within a block or two of the finish. In the past, finding a place for dinner was a challenge if you arrived in town right at dusk, but in 2017 several restaurants stayed open later.
Google search results for motels in Rugby.
Google search results for restaurants in Rugby.
Camping in Rugby Saturday night was available last year. Information for this year is still being verified. Details will be posted here and in our Facebook group once they are available.