LODGING & CAMPING
AT THE START
LODGING & RESTAURANTS:
The closest motel to stay Friday evening is The Buckshot Inn & Lodge, located 16 miles WSW of the departure point on US Route 36 in Smith Center, Kansas. Several restaurants are open in the evening.
IMPORTANT NOTE
As of Spring 2022, the U.S. Center Motel in Smith Center, shown above, has CLOSED.
Its future is uncertain at best.

Other options include  Green Acres Motel & RV Park in Red Cloud, NE (21 miles from Start) and Crest-Vue Motel in Mankato, KS (23 miles from Start). Shady Grove Cabins is located about 24 miles south of the start point, in Downs; the last 1930's roadside tourist cabins still operating in Kansas. There is also a bed and breakfast in Smith Center and another in Red Cloud (though you won't be around for breakfast Saturday morning!)
CAMPING:
The US Center Foundation and Lebanon City Council permit "Smackdabbers" to camp for free on Friday night in Lebanon Park, located on the south side of Kansas Avenue, just west of Main Street. The town of Lebanon is only about 2-1/2 miles from the start point, rather than the 16+ miles from the closest motels, so it's a very convenient location. Restrooms are available, but no showers. If you are considering this option, contacting the Lebanon Visitors Center ahead of time is suggested, and a donation to the US Center Foundation is strongly encouraged.
The US Center Foundation
PO BOX 24, Lebanon, KS 66952
Phone (785) 620-7115
E-Mail: uscenterfoundation@gmail.com
www.uscenterfoundation.com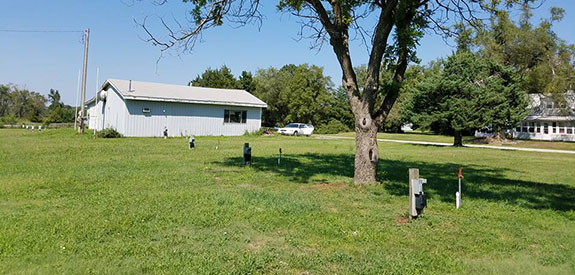 If primitive camping isn't your thing, the Lebanon RV Park is located in Lebanon half a block off of Highway 281. Campsites feature hookups for water, waste, and 110V/220V electricity.

FRIDAY NIGHT COOKOUT:
In past years, the local organizations in Smith Center have sponsored a cookout for riders on Friday evening. A donation is strongly encouraged. Please check with the Smith Center CVB to verify the time and location the cookout is being held.
---
AT THE FINISH
LODGING & RESTAURANTS:
The destination marker is right at the main intersection in Rugby. A couple of larger hotels are within a block or two of the finish, most notably the Northern Lights Inn and Cobblestone Inn & Suites, which is modern and nicely appointed.
Rugby has several restaurants located close to the monument. Please be aware that some of the restaurants close at 8 PM, and may stop seating Smackdabbers as early as 6:30PM on Saturday night.  Dakota Farms restaurant and lounge is connected to the Northern Lights Inn.
Jan's RV Park and Lodge, located 30 miles east of Rugby, is a good choice for large groups riding together. The lodge can sleep up to 14.
CAMPING:
Camping in Rugby on Saturday night is available at the Pierce County Fairgrounds. There is no electricity, but public restrooms & showers are available at the fairgrounds. There is no charge to use the camping space but a donation at Rugby city hall is strongly encouraged. Camping is also available within walking distance of the monument at the Oakwood Inn & Campground on US Hwy 2.